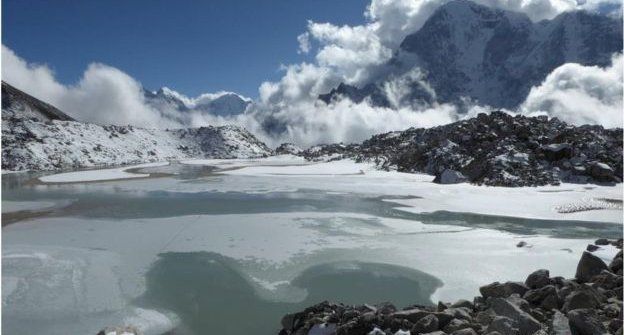 By Navin Singh Khadka
21 March 2019
(BBC News) – Expedition operators are concerned at the number of climbers' bodies that are becoming exposed on Mount Everest as its glaciers melt.
Nearly 300 mountaineers have died on the peak since the first ascent attempt and two-thirds of bodies are thought still to be buried in the snow and ice.
Bodies are being removed on the Chinese side of the mountain, to the north, as the spring climbing season starts.
More than 4,800 climbers have scaled the highest peak on Earth.
"Because of global warming, the ice sheet and glaciers are fast melting and the dead bodies that remained buried all these years are now becoming exposed," said Ang Tshering Sherpa, former president of Nepal Mountaineering Association.
"We have brought down dead bodies of some mountaineers who died in recent years, but the old ones that remained buried are now coming out."
And a government officer who worked as a liaison officer on Everest added: "I myself have retrieved around 10 dead bodies in recent years from different locations on Everest and clearly more and more of them are emerging now." […]
"Hands and legs of dead bodies have appeared at the base camp as well in the last few years," said an official with a non-government organisation active in the region.
"We have noticed that the ice level at and around the base camp has been going down, and that is why the bodies are becoming exposed." [more]